ARTISTIC GYMNASTICS
WOMEN'S INVITATIONAL
LEVELS 1-10/OPEN
XCEL (BRONZE, SILVER, GOLD, PLATINUM & DIAMOND)
ENTRY FEES: Starting at $125
TEAM ENTRY: $60 (Top 3 Scores Count)
SAM MIKULAK
MEN'S CHALLENGE
LEVELS 4-10/JD/ELITE
ENTRY FEES: Starting at $125
TEAM ENTRY: $60 (Top 3 Scores Count)
LEVELS 3-10/GROUP
ENTRY FEES: Starting at $125
GROUP ENTRY: $300
LEVELS 1 – ELITE
ENTRY FEES: Starting at $125
No extra charge for second and third event
THE LARGEST GYMNASTICS COMPETITION IN THE CARIBBEAN
Since 2011, the Atlantis Crown Gymnastics Competition which is held at the beautiful Atlantis Resorts, Nassau Bahamas has been the largest gymnastics competition in the Caribbean. We are honored to host such a prestigious event in the Bahamas. Our continual partnerships with Atlantis Resorts, The Bahamian Government and Federation as well as local businesses and organizations helps us provide a quality and affordable destination event as well as a memorable family experience for all who attend.
Mark your calendar for the 2021 Atlantis Crown, scheduled for December 16-19, 2021.
WHAT TO EXPECT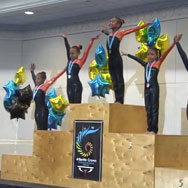 Quality Competition
The competition is held in the luxurious Imperial Ballroom located in the Resort. The event begins on Thursday with athlete training followed by an exciting and Bahamian culture-based Opening Ceremony featuring an Athlete Grand March-in and several entertaining acts you don't want to miss. Quality gymnastics equipment is used with electronic scoring systems and displays for easy tracking. Participant seating is elevated for exceptional close-up viewing. Lastly, the competition is run by top notch meet organizers, Al & Cindy Scharns and their company Branch Gymnastics.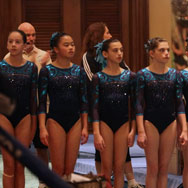 Great Hospitality
The friendliness of Branch Gymnastics' event staff, and generous reception of all guests are second to none at the Atlantis Crown Invitational. Our knowledgeable staff are happy to assist clubs and families through the process of registering athletes, attending the event and answering any questions you may have! Additionally, tickets, programs, attire and other merchandise can be purchased in advance to ensure a relaxing and stress-free stay.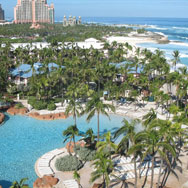 Amazing Venue
The Atlantis Resort is one of the most beautiful resorts in the world. With over 22 acres of resort features which include water parks, slides, rivers, pools, and some of the best beaches with crystal clear water and temperatures averaging high 70-80 degrees during your stay.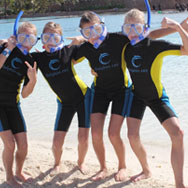 Fun For All
There is plenty to do at the resort and in the Bahamas. Several water slides and pools, beaches, Dolphin excursions, rock walls, night clubs, restaurants and shops, and one of the largest casinos in the Caribbean.
GENERAL INFORMATION
MEET SCHEDULE
To view the Atlantis Crown Invitational schedule, download the schedule below.
COMING SOON
ROTATION SHEET
To view the Atlantis Crown Invitational rotation sheet, download the sheet below.
COMING SOON
ENTRY FORM
If you would like to participate in the Atlantis Crown Invitational, download the form below.
MEN'S & WOMEN'S ARTISTIC REGISTRATION FORM
TRAMPOLINE & TUMBLING REGISTRATION FORM
ENTRY FEE CALCULATION WORKSHEET
CHANGE OF ENTRY FORM
If you would like to amend your entry form, download the form below. All changes after November 1, 2021 are subject to a $25/athlete change fee.
REFUND POLICY
There will be NO REFUNDS after October 22, 2021.
COMPETITION VENUE
Imperial Ballroom
Atlantis Resort, Paradise Island, Bahamas
ENTRY DEADLINE
Artistic Gymnastic Clubs – October 1, 2021
Rhythmic Gymnastic Clubs – October 1, 2021
Trampoline & Tumbling Clubs – October 1, 2021
COMPETITION RULES
Women's, Men's, and Rhythmic Gymnastics all follow USA Gymnastics Age Group Rules
SCORING
ProScore System
EQUIPMENT
AAI (F.I.G.) equipment provided by Tim Keckler, Lightning City Equipment
PHOTO / VIDEO RELEASE
Permission is hereby granted to the ACC Impact Group LLC and Branch Gymnastics by way of entering the Atlantis Crown Invitational at Atlantis Resorts to use any photographs/videos that may be taken at the event on the Atlantis Crown or Branch Gymnastics web sites and/or in Atlantis Crown or Branch Gymnastics printed publications or electronic communications without further consideration, and to hold harmless the above named entities.
VISITOR INFORMATION
WELCOME LETTER TO PARENTS AND COACHES
In this letter you can find 'fast facts' and information about the 2021 Atlantis Crown Gymnastics Invitational.
APPAREL & MERCHANDISE
Click the button below to order. Please remember, apparel will not be available for sale at the event, so start ordering now.
PROGRAM AD ORDER FORM
If you would like to place in advertisement in this year's program, please fill out the order form below.
PRE-SALE ADMISSION
Pre-sale tickets are available until December 1, 2021.
DELTA DEAL
For information about Atlantis Crown Gymnastics Invitational Delta Airlines discount deal, download the form below.
DELTA AIRLINES DISCOUNT INFORMATION
COVID-19 INFORMATION
Currently, international travel to the Bahamas requires a Bahamian Health Visa to be applied for and approved before travel.  We have provided the link below, but would suggest that you wait to complete this process until we get closer to the event as things related to COVID-19 may/will change.  We will keep clubs updated.
HOTEL INFORMATION
Atlantis Resort Bahamas
One Casino Drive Suite #59
Paradise Island, Bahamas
AIRPORT INFORMATION
Nassau (NAS) Airport
(Passports required)
GROUND TRANSPORTATION
Natasha M.Newry
info@leisuretraveltours.com
Tour & Transportation Planner
Leisure Travel & Tours Ltd.
#10 Richhill House
Montgomery Street Palmdale
P.O. Box SS19057
Nassau, Bahamas
Tel: 242-325-6848 Ext. 4024
Fax: 242-325-3223
LEISURE TRAVEL RESERVATION FORM
TRANSPORTATION PRICING
Adults (12 years and up) Round Trip: $30.00
Children (3 to 11 years) Round Trip: $15.00
Infants (0 t0 2 years): FREE
Carseat Round Trip: $35.28
Deadline date to schedule transportation:
Friday, November  19, 2021
WHERE TO STAY
Atlantis Resort Bahamas
One Casino Drive Suite #59
Paradise Island, Bahamas